In-House and Customer Vehicles
---
Camcraft House Car – 1975 Chevrolet Monza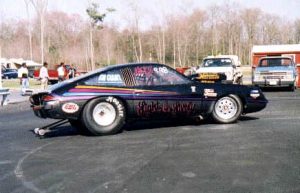 Terry Walters IHRA – Pro Stock Car
---
Michael Hooper's 355 Chevy powered Vega pictured at US-13 Dragway in Delmar, DE. Michael is a recent winner in the Super Pro Class. His car runs high 9-second ETs at 136 mph. His engine utilizes a Camcraft Torque Monster roller cam and pistons coated by Camcraft.
Drummond Race Cars
---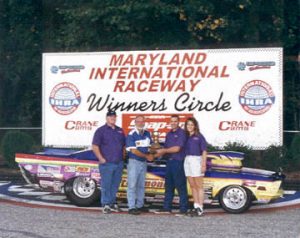 Steve & Kathy Drummond, owners of Drummond Race Cars are shown accepting 1st place award from Royce Miller, owner of Maryland International Raceway, at a Ford Fever Classic event. Steve's Mustang has run a best of 8.62 @ 156 mph with a 404 cubic inch Windsor Engine featuring Cleveland heads and a Camcraft Torque Monster cam. Steve is a machinist and builds his own engines. In 2000 he is #2 in NHRA Division 1 Super Gas and #1 in the TRW all Stars.
Jerry Shirey
---
Jerry Shirey's beautiful 55 Chevy is a regular competitor at US 13 Dragway in the Heavy Eliminator class. It is powered by a 406 Small Block Chevy and runs a 10.80 ET. He utilizes a Camcraft XTL series flat tappet cam.
Jerry Shirey's second race car is a Chevy S10 pickup powered by a 406 small block Chevy. It also runs 10.80s. Both of Jerry's cars utilize Camcraft XTL flat tappet cams and heads by Benston Automotive for maximum induction efficiency.
Frank Deiny Jr. Team
---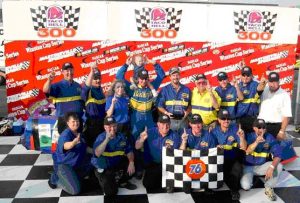 Andrew Wrotten
---
Andrew Wrotten
Rookie of the Year, Langley Speedway
Save